my thoughts

I can't believe that what I feel is really happening to me
Make it hurt
And point the finger at my insecurities
Well I guess I just don't understand about those complexities in your mind
And I guess I just don't understand why this world seems so unkind
Maybe just once I get what's coming to me.
**"Maybe Just Once" - Nine Inch Nails**
Wednesday, December 06, 2006
There was a weird quarter in my wallet yesterday. I was digging through my change to find the right amount for parking (3$) and I pulled out a 1982 quarter that looked a little warped. The side of the quarter with the caribou on it looked mis-shapen so I flipped the coin over to see writing neatly pressed into the Queen's head. Whoever had done it must have made some sort of heated press since the lettering is done very neatly and evenly. Who would take the time to make their own mini-press for metal? The writing on the quarter says "you virgin". I don't understand the point of damaging a coin nor of what is pressed into the coin, but I find it very interesting.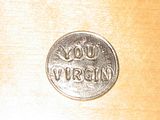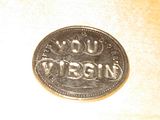 I'm still feeling rather down about everything. Mostly, I'm doing fine but there are those moments where I just can't help crying and letting myself be sad. There are more of those moments than I'd like there to be, but at least they aren't an all day every day type of thing. It helps that in a few very short days, it has officially become winter here. It's been snowing on and off for three days now. Doesn't help that I called home to ask what the weather was like only to hear that it has yet to snow enough to stick. Looks like I'm finally going to have to start wearing my winter coat.
On a completely separate note, my darling Shay is hosting a contest to find the best "
S Spot Xmas Cock/Cunt
" and she is looking for some holiday submissions (which I get to help judge). So if you've got a bit of an exhibitionist streak in you and are rather imaginative, then please do send her a picture of your privates decked out in their holiday best. Extra points for creativity and a winter/holiday theme is a must. I encourage all those brave souls to get out there and try to win that prize. If enough people enter the contest then Shay just might make the prize a little bit bigger as encouragement. Monday evening,
I called
into the
RobOnt Radio
show to wish Rob a happy birthday. It was pretty fun to finally get to talk to them. Perhaps those of you who visited through the RobOnt website would be willing to send in some pictures instead of just looking at them? Us judges don't care about the size, shape or condition of your bits just as long as they express some original wintery cheer. Here's looking forward to seeing some submissions in the near future!
[update]
Chris just checked the mail and it seems that the Pod's mother has sent me a Christmas card. The card has bunnies on it! And, most importantly, note that she signed it from every member of her immediate family (dog, cats, and hamster included)
EXCEPT
for the Pod. I feel so loved!
Down So Long - Jewel
Sun sets 'cross the ocean
I'm a thousand miles from anywhere
My pocketbook and my heart both just got stolen
And the sun acts like she don't even care
The wind blows cold when you reach for the top
It feels like someone's face is stuck to the bottom of my shoe
I got a plastic Jesus, a cordless telephone for every corner of my room
Got everybody but you telling me what to do
[chorus]
But I've been down so long
Oh, it can't be longer still
I've been down so long
That the end must be drawing near
I look to everybody but me to answer my prayers
'Til I saw an angel in a bathroom
Who said she saw no one worth saving anywhere
And a blind man on the corner said
It's simple, like flipping a coin
Don't matter what side it lands on if it's someone else's dime
[chorus]
I take a trip, I catch a train, I catch a plane
I got a ticket in my hand
And then a man takes my money
And like cattle we all stand
But we've been down so long
Ooh, it can't be longer still
We've been down so long
The end must be...
I know the end must be...
Oh, I know the end must be drawing near
Oh the end...
*stupid link of the day*
Lightning Exits Woman's Bottom
: so I guess it really is possible to fart lightning! JeN's mind ejaculated @ 6:36 p.m. |
|
permalink