my thoughts

I can't believe that what I feel is really happening to me
Make it hurt
And point the finger at my insecurities
Well I guess I just don't understand about those complexities in your mind
And I guess I just don't understand why this world seems so unkind
Maybe just once I get what's coming to me.
**"Maybe Just Once" - Nine Inch Nails**
Sunday, March 20, 2005
I picked up the rope today. The mail person dropped it off on Thursday but I wasn't home to get it. In fact, I was at Amanda's drinking for almost 11 hours. I knew she wanted to see the rope too, so I waited until today to pick it up when she, Kate and I went to the mall. I got more underwear while we shopped (pink flamingoes!). I think I have an addiction. An elephant-sized thank you goes out to
Suki & Sanyu
for the rope. I'll be e-mailing them a little thank you soon enough. And another thank you to
Monk
for making it.
Midterms have zapped up any thoughts I've had lately so today will be another post full of random pictures. Not that anyone really minds, of course. The first two pictures are shots of my rice cooker. Now, please don't glance at the name of the image (since I named the image before deciding to play this little game), but I would like it if you could
leave a comment telling me who/what you think the rice cooker resembles
, if anything. The next two pictures are a shot of my rope, and a picture of my bedsheets. Yes, I've had the sheets since I was about eight years old and I still love them.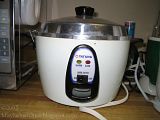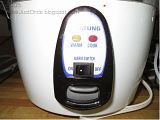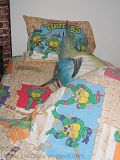 I wore green on St. Patrick's Day:
green with envy
I'm not Irish:
ignore me since I'm not Irish
But I can hold my liquor like a good girl:
ew, I spent almost 11 hours drunk
*stupid link of the day*
Masturbate For Peace
: since my last post involved some caring of the non-existant kind, here is a website where almost anyone at all can participate in the attempt for world peace. JeN's mind ejaculated @ 8:38 p.m. |
|
permalink